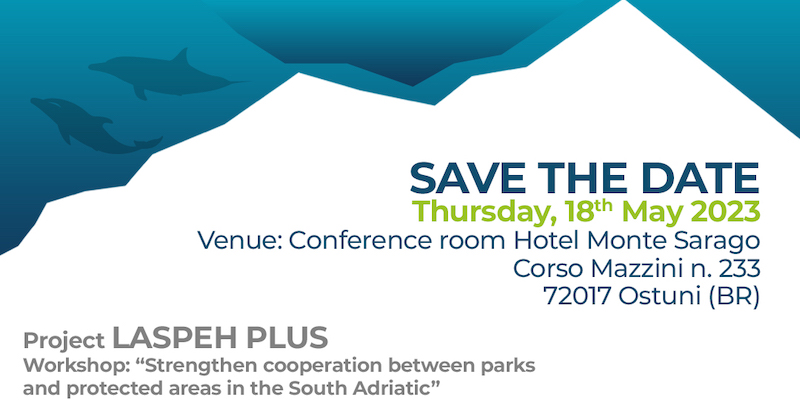 International workshop for cooperation between parks and protected areas in Ostuni, Puglia
Overview
The international workshop "Strengthen Cooperation between Parks and Protected Areas in the South Adriatic" will be held on May 18, 2023, starting at 9:30 am at the Conference Hall of Hotel Monte Sarago in Ostuni. The event is organized by the Regional Natural Park of Coastal Dunes as part of the capitalization activities of the LASPEH project "Low Adriatic Species and Habitats", funded by the Interreg IPA CBC Italy-Albania-Montenegro 2014/2020 Programme, and it is part of the EUSAIR (EU Strategy for the Adriatic and Ionian Region) initiatives 2022/2023.
The workshop aims to strengthen cooperation among parks and protected areas in Puglia, Molise, Albania, and Montenegro for the protection of priority habitats and species such as the loggerhead sea turtle (Caretta caretta) and migratory birdlife. The event represents an opportunity to delve into issues related to environmental conservation and biodiversity in the Southern Adriatic area, through the sharing of experiences and best practices.
Following the institutional greetings by Annarita Angelini (President of the Coastal Dunes Park), Rocky Malatesta (Vice President of FEDERPARCHI), and a speech by Mauro Novello (Coordinator of the Joint Secretariat of the INTERREG IPA CBC Italy-Albania-Montenegro 2014/2020 Programme), the workshop will be structured into four panels and will conclude in the afternoon at 5:00 pm.
The first panel, moderated by Michele Lastilla (Director of the Coastal Dunes Park) and focused on the parks and protected areas of the Southern Adriatic, will feature the participation of Benida Kraja (Representative of the National Agency of Protected Areas of Albania), Vladimir Martinović (Director of Public Enterprises for National Parks of Montenegro), Mario Cuculo (Responsible for Environmental Authority of the Molise Region), and Caterina Dibitonto (Director of the Parks and Biodiversity Protection Departement of the Puglia Region).
The second panel will address cooperation within the framework of the EU Strategy for the Adriatic and Ionian Region (EUSAIR), followed by the signing of a memorandum of understanding between the parks and protected areas of Albania, Montenegro, Molise, and Puglia. Finally, the third and fourth panels will focus on priority species and habitats of the Southern Adriatic, including the loggerhead sea turtle and migratory birdlife.
Among others, experts and representatives from the following organizations will participate: Regional Natural Reserve "Palude La Vela," Municipality of Izola, EUSAIR Facility Point Slovenia TSG3/Pillar 3, Department for Environmental Protection - Ministry of Foreign Trade and Economic Relations of Bosnia and Herzegovina, Regional Administration of Protected Areas RAPA Vlore, Marine Institute/Croatia, University of Shkodra "Luigj Gurakuqi," Institute of Marine Biology - University of Montenegro, Torre Guaceto Management Consortium, and Albanian Ornithological Society.
To participate, registration is required via the following link: https://forms.gle/LnjW9PfgW51kajDw5, selecting the option for in-person or online attendance, by May 16, 2023, at 1:00 pm. Simultaneous translation in Italian and English will be available during the event.