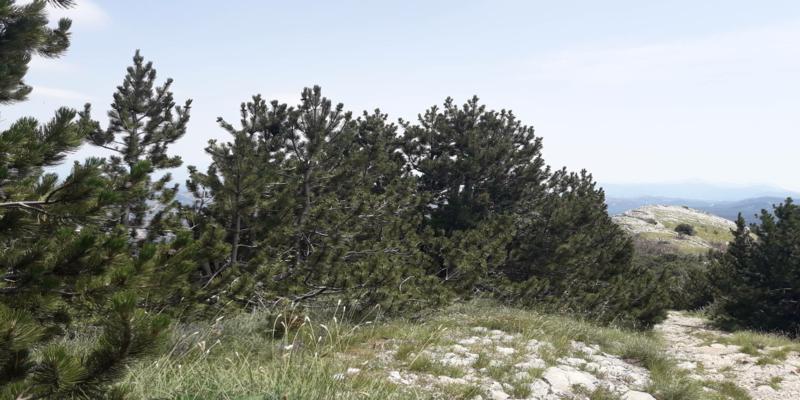 LASPEH, the Bosnian Pine in the National Park Lovćen of Montenegro
Overview
LASPEH Project is developing a transnational common strategy to preserve common habitats and species in Italy, Albania and Montenegro. But what are they? Here is an insight on the Bosnian Pine
The Bosnian Pine, located in the area of ​​Jezerski Vrh in the National Park Lovćen in Montenegro, is the endangered species identified by the project partner Public Enterprise for National Parks of Montenegro to be involved in the project LASPEH and its actions to preserve the natural and landscape heritage of the Low-Adriatic area.
Bosnian pine (Pinus heldreichii Christ) is a conifer species from the family of pine trees and a tertiary relic and subendemic of the Balkan peninsula species. Its most frequent settlements are steep, rocky terrain where it forms Bosnian pine woods and mixed forests with other conifers and hardwoods. The older representatives have a specific bark that looks like the tree has a bullet proof vest, because the tree bark is cracked so that it builds many polygonal tiles that have the appearance of skin. The tree can reach a height of 30 m and a thickness of 1 m in diameter while the bottom of the tree is often saber folded. The Bosnian pine (Heldreich`s pine) was named after the famous German botanist Heldreich.
In the Balkan Peninsula, in addition to Montenegro, the Bosnian pine is recorded in Bosnia and Herzegovina, Kosovo and Albania, in the south to northern Greece, in the east to the Pirin and Slavianka mountains and in western Bulgaria. In the Italian Peninsula, thiese species occur in the southern Apennines.
This and other species and habitats of great naturalistic and landscape value are involved in the Project LASPEH, which aims at defining a common strategy to preserve the natural and landscape heritage of the Low-Adriatic area (in particular in Italy, Albania and Montenegro) in order to face the loss of biodiversity. Particular attention will be given to species protected by directives 92/43/CEE and 79/409/ CEE, typical of these eco-regions threatened by changing environmental conditions, caused by climate changes and bad management.
LASPEH Project, funded by the Interreg IPA CBC Italy-Albania-Montenegro Programme under the Priority Axis 3 (Environment protection, risk management and low carbon strategy) of the Programme, will implement a network of organisations cooperating for a better management of priority species in Natura 2000 sites, exchanging their best practices and developing a transnational common strategy to preserve common habitats and species