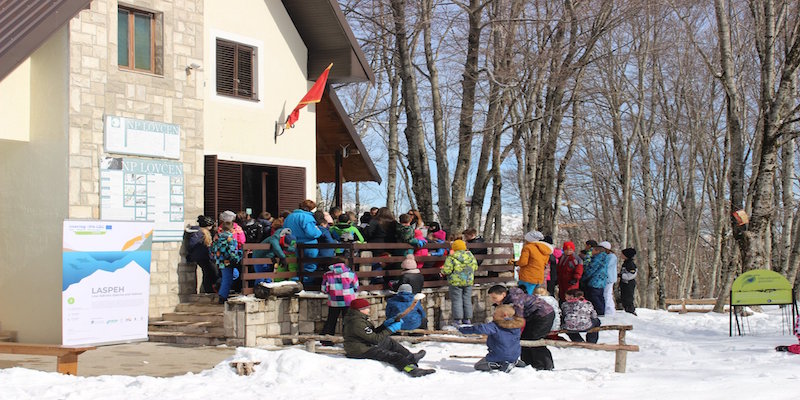 National Park Lovćen: the experts meet the pupils
Overview
On 29th February 2020, the 1st meeting of the Awareness Campaign of the National Parks of Montenegro took place, organized in collaboration with the Department for Protection of Natural and Cultural Heritage. Experts met the pupils of the Elementary-High School of Cetinje in the National Park Lovćen, on the slopes of Jezerski Vrh mountain, and involved them in several activities aimed at raising awareness on the importance of conservation of Pinus Heldreichii and concrete actions carried out to preserve this species thanks to LASPEH. 
Awareness campaigns are one of the activities foreseen by LASPEH – "Low Adriatic Species and Habitat", with the aim of sharing conservation measures on endangered habitats and species. One of the species of great naturalistic value involved in the project is the Pinus Heldrechii, whose area where it is located in Montenegro was captured by the fire in the summer months of 2017 with  disastrous consequences. Thanks to LASPEH, conservation measures and actions to preserve this species have been adopted on the territory and shared with the communities.
The LASPEH project, funded by the Interreg IPA CBC Italy-Albania-Montenegro program under priority axis 3 (environmental protection, risk management and low carbon strategy), aims to implement a network organizations that cooperate for a better management of priority species in Natura 2000 sites. Through the establishment of this network, the organizations included will have the opportunity to share and exchange their best practices, developing a common transnational strategy to preserve common habitats and species.