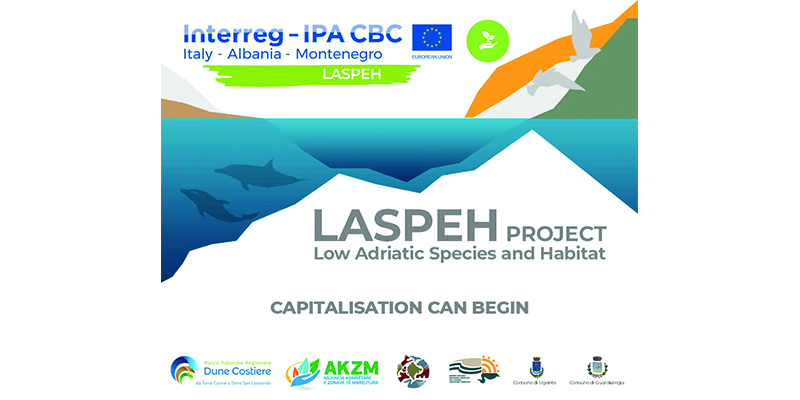 Overview
PI for National Parks of Montenegro, with partners from Italy and Albania, under the leadership of the Regional Natural Park "Coastal Dunes from Torre Cana to Torre San Leonardo" submitted a proposal for the capitalization of the LASPEH project through the Interreg IPA CBC Italy-Albania-Montenegro program.
The Public Enterprise for National Parks of Montenegro signed a Partnership Agreement with partners from Italy and Albania, which begins the capitalization of the LASPEH project that received recognition from the Agency for Territorial Cohesion of Italy, earning a special place in the catalog of projects that contributed to the development of better cooperation in the cross-border area.
The partners of the LASPEH project will meet in Petrovac (Montenegro) with the aim of expanding the Transnational joint strategy for the management of priority species and habitats in the Natura 2020 network and applying best practices for the further preservation of priority species and habitats. The workshop-type event will be attended by eminent experts in the field of environmental protection, and strategic planning and conservation of cross-border areas of trilateral cooperation Italy-Albania-Montenegro will be discussed.
The cross-border workshop will directly involve representatives of different institutions of the three countries with the common task of improving the conservation of protected areas. As a result of the fruitful cooperation so far through the LASPEH project, the following were developed in the previous period: Conservation plan for the protection of Munich on Jezerski vrh (Pinus Heldreichii); transnational joint strategy for better management of priority species in Natura 2000 habitats; cooperation in the implementation of concrete conservation measures in the Munika habitat at Jezerski vrh (in the Lovćen National Park); joint efforts in raising awareness of the conservation of this very important species for this habitat.
The event will be attended by more than 40 representatives of various institutions from Montenegro, Italy and Albania